Mel-key-or |Female | Single |
---
This Months Page Theme:
Periwinkle
I like My Little Pony, Pokémon, Supernatural, documentary-style sitcoms (The Office, Parks and Recreation, etc.), food, Rilakumma, furry stuff (PG-13 and under. The GOOD part of the Furry fandom. :3), and Warrior cats.
My favorite animes are Free! Iwatobi Swim Club, Dog & Scissors, and Squid Girl. I sew, but I still need some work. I ADORE sculpting! It's so fun!
(・∀・)
~ART STATUS~
Top 5 favorite Pokemon:
1. Flygon, 2. Vaporeon, 3. Typhlosion, 4. Poochyena, 5. Spheal
Top 5 favorite Ponies:
1. Fluttershy, 2. Twilight Sparkle, 3. Applejack, 4. Rarity, 5. Sunset Shimmer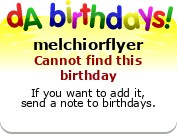 "Common sense is not so common"
~Voltaire.
Get your own CrushTag!