Mel-key-or |Female | Single |
---
This Months Page Theme:
Music-ish
Hello! I'm Melchior (pronounced Mel-KEY-or) Flyer! A few things to know about me, is that I am a free-lance artist, and a Theater Geek! I love acting, just as much as I love making art! This account is basically digital art, with some sculptures, plushies, and cosplays on the side.
I love My Little Pony (if you couldn't tell), Pokémon, Legend of Zelda, documentary-style sitcoms (The Office, Parks and Recreation, etc.), food, furries, and Warrior cats. I fangirl harder over YouTubers than I do celebrities. I love JackSepticEye, Markiplier, JonTron, and Game Grumps.
I am a female Brony (I dislike the term "Pegasister"). I am also a Furry! I'm currently working on getting a fursuit. If you like to help, please check out my commission information!
~ART STATUS~
Top 5 favorite Ponies:
1. Fluttershy, 2. Applejack, 3. Twilight Sparkle, 4. Rarity, 5. Sunset Shimmer
Top 5 favorite Pokemon:
1. Flygon, 2. Vaporeon, 3. Typhlosion, 4. Poochyena, 5. Spheal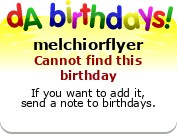 "Common sense is not so common"
~Voltaire.
Get your own CrushTag!